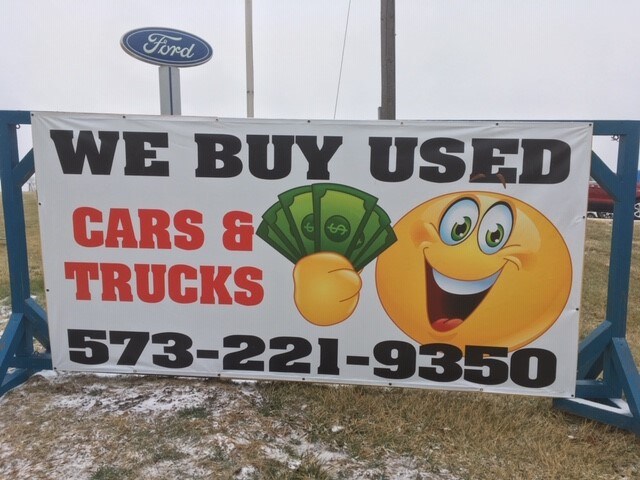 Tom Boland Ford wants to purchase your vehicle today! We offer an easy, fast and hassle-free way to sell your car or truck and there is no obligation to purchase anything from us. We will appraise your vehicle and give you a written offer right on the spot. An appraisal can take as little as 15 minutes and in most cases we can hand you a check on the SAME DAY! Receive an offer for your vehicle without leaving the comforts of your home or work, that's right, we will come to you. For more information or to set up an appointment please call or email us today.                   
 
We Buy Cars & Trucks and We Come to You!

(573) 221-9350
Our mobile service is limited to Hannibal and the surrounding areas.

                          
How will I get paid for my vehicle?

We will make payment to you for your vehicle with a certified bank check.  No worrying if funds are available or if a stranger's check will go through. 

What kind of vehicles does Tom Boland Ford buy?
We buy all cars & trucks, any make, model, or vehicle condition. 
 
What if I still owe money on my car?
We will call your finance company and get information to determine your balance.  We then pay your finance company and issue a bank check to you for the difference.

What if I owe more than my vehicles is worth?
If the balance owed is more than what the vehicle is worth, the difference is called negative equity.  We will calculate the difference between the balance owed and the value of the vehicle.  We will accept a cashier check or a certified check for the difference and then we will pay off the finance company for you.

When do I have to make a decision about selling my vehicle?
Each appraisal is good for 7 days or 300 miles, which ever comes first.  No obligation to sell or buy and appraisals are 100% free.

Why should I sell my vehicle to Tom Boland Ford?
Selling your car or truck takes a great deal of time and effort.  We eliminate the time it takes to advertising and waiting for strange buyers to come look at your vehicle. Receive top dollar for your vehicle because we have the ability to pay more for trades.

Convenience:  our "We Buy Cars" program will travel to you!  We realize that customers don't always have time to drive to us so we have created a mobile appraisal unit that will come to your home or work.  An appraisal takes about 15 minutes and we will give you a written offer on the spot. 
 
What if I'm looking to buy a vehicle to replace the one I'm selling?
The great thing about our appraisals is that they are valid toward the purchase of any vehicle we sell.  We are sure that you can find a new or used vehicle that fits nicely in your garage. 

What documents are necessary to sell my vehicle?
• Certificate of title
• Any legal picture identifications such as a driver's license or a state ID
• Payment book or account number (if vehicle is financed or leased)
• Letter of authorization - only if you represent the original owner of the vehicle